Shijiazhuang Gezi Screen Mesh Co., ltd is one of the most professional filtration material supplier, who is located in Hebei province China.
We' re specialized in various of filtration material for different filteration condition, main in normal& midium temperature needle felt, high temperature needle felt, needle felt after special finished treatment, filter cloth for filter press, filter bag with all available material for air and liquid and dust, nylon& polyester& stainless steel sieve mesh for flour milling, medicinal filtration and other filtration, canvas cloth, plastic cleaner the frame filter bag, screen printing mesh, etc.
Our filtration materials are widely uesed in power plant, cement, iron and steel smelting, waste incinaeration, chemical industry.
Our materials are being exported to United States, Asia, Africa, Europe, Middle& South America, all kinds of customers around the world.
Our mission is to provide you the quanlity material you' re finding, to service you best on payment item, shipping safe.
Welcome to inquiry our mateirals!
Where to buy screen printing material or mesh?
Gezi silk screen printing screen mesh are made with low-elongation fabric polyester with plain weave designed to improve strength and allow for higher and faster tension stabilization in silk mesh screen. It's widely used in silk screen printing machines, t shirt silk screen printing, pcb, glass printing, textile printing, and ceramic printing, etc.
It has features of better durability in screen life and stretch ability, faster tensioning and stabilization in the frame, faster tension stabilization, higher tension levels, it can increased resistance to abrasion and harsh reclaiming chemicals, with high durability and best tensity etc.
Gezi mesh for screen printing imported weaving machine from Sulzer Ruti in Swiss and material from Japan. Our screen print mesh ( polyester filter cloth) have been approved by ISO9001:2008, and we're proud of our strict production line and quality control.
Our mesh polyester are ranged from 7T-165T with white and yellow color mainly as file, other special specification can be produce as require. And 16T-40mesh, 32T- 80mesh, 36T- 90mesh, 43T- 110mesh, 51T- 130mesh, 62T- 157mesh, 77T- 196mesh, 90T- 230mesh, 100T- 250mesh, 110T- 280mesh, 120T- 305mesh, 130T- 330mesh, 140T- 355mesh, 150T- 380mesh, 165T- 420mesh always sell good.
Width and length can be as customers required.

We also supply kinds of screen printing frame, aluminum handle, squeegee, etc.
Gezi polyester screen printing mesh( bolting cloth)
Material: polyester
Color: white and yellow
Items: 15mesh- 450mesh
Width: as customer required, maximum width can reach to 370cm
Length: normally 30 or 50 meters
Reference suggestion items for different screen printing purpose.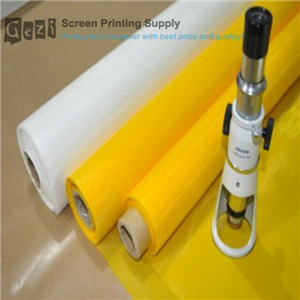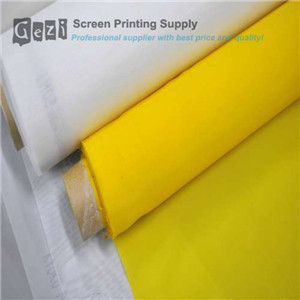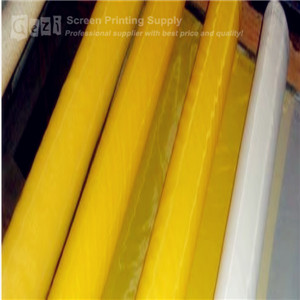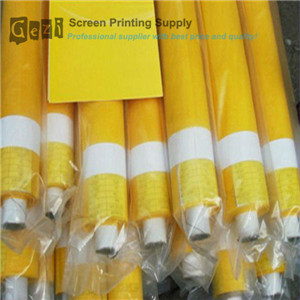 Gezi aluminum screen printing frame, handle, Squeegee Please kindly click the product name to get more items details)